NEWS ON LANGPROS
 Since its foundation almost a decade ago, Langpros has successfully accomplished various goals.
We are more than proud of our global network of certified and trained translators and interpreters who master both foreign languages and cultures in order to grant high-quality services. No matter the size, field or difficulty of the projects our clients gave us, we have always reached flattering feedbacks from them. 
Recently we have been rewarded with some articles on newspapers regarding our international prestigious events where we took care of interpreting and translations along with some interviews where we present our wide range of language services.
This positive reviews from Media in local newspapers enhanced our willing to continue this journey of hard work and dedication.
Our team is constantly working for this purpose to maintain high standards and to pursue our vision and mission.
Discover all the latest news on us!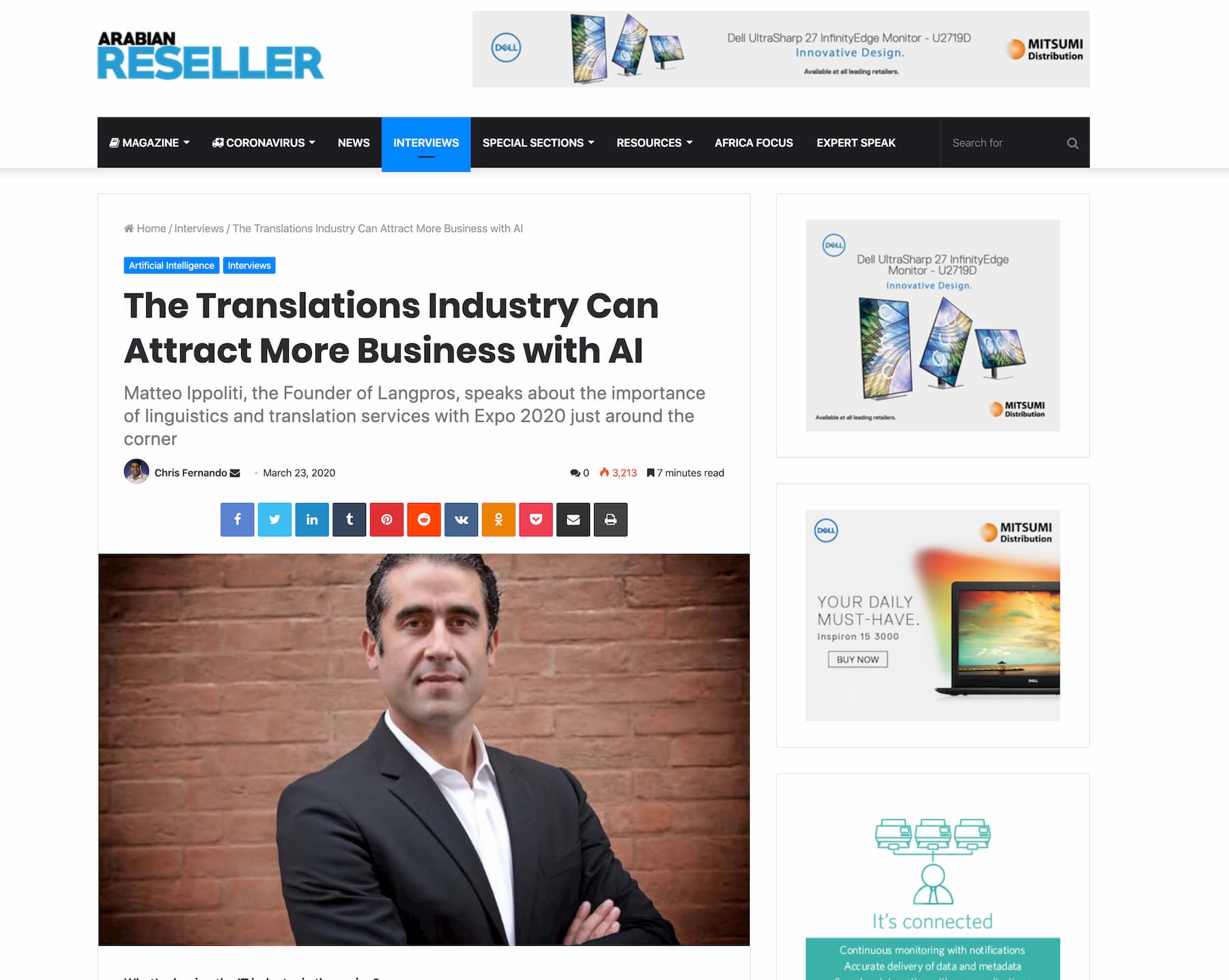 Arabian Reseller, March 23, 2020
Langpros' CEO, interviewed by Chris Fernando of Arabian Reseller Magazine, retraces the impact of translation technology on the industry, as well as his expectations for the 2020 translation trends, the advantages for the clients, and the actual limits of AI-driven translation. 
Technology is deeply intertwined with the translation industry, as the first Computer Assisted Translation tools date back to more than 20 years ago. In today's market, investing in innovation is the prerequisite for high-quality services with fast turnaround and at a competitive rate. Tools such as AI-driven Machine Translation are now capable of processing technical texts consistently and reliably. However, human review is still required. 
While being constantly improved, AI technologies still can't quite grasp the full spectrum of written texts, as when translations are more abstract or complex, the human brain is still unmatched. Moreover, some rare languages and dialects might not be available for Machine Translation. 
The top trend for 2020 will be the increased popularity of Video Remote Interpreting services. This is why Langpros decided to invest in SmartLangPro, its VRI application available for pc, smartphone, and tablet. The app allows clients to manage their interpreting needs through a smooth and user-friendly interface. 
New technologies such as AI- driven Machine Translation and Video Remote Interpreting are helping the translation industry in attracting more businesses. Find out everything about the latest translation trends in the full interview.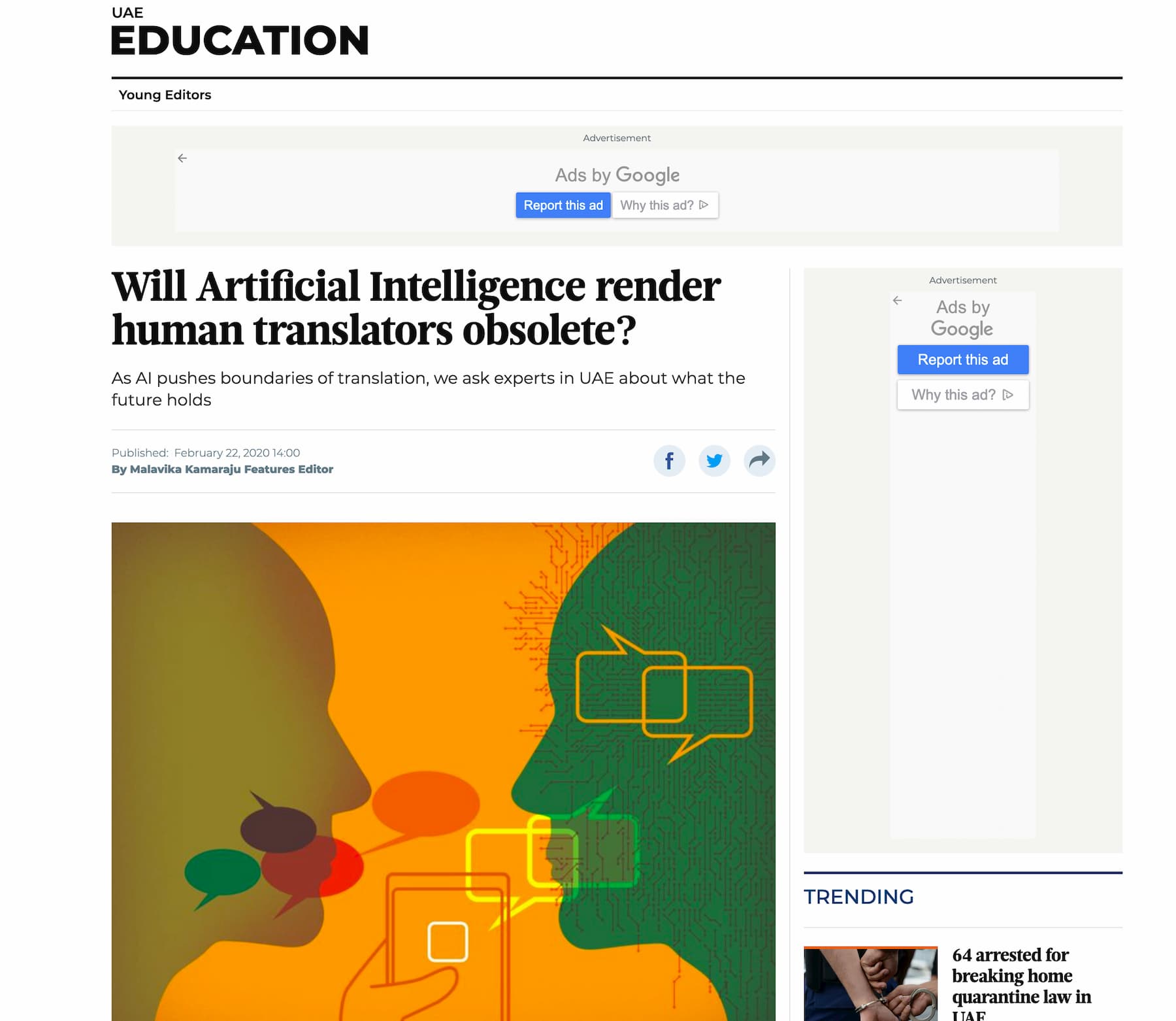 Gulf News, February 22, 2020
Artificial Intelligence is pushing the boundaries of translation, and many experts say that this innovation will change the way we live. But what is exactly its application and is it reliable yet?
In this Gulf News column, journalist Malavika Kamaraju gives answers to these questions by interviewing two prominent figures in Dubai's language field. 
During the interview, Langpros' CEO Matteo Ippoliti explained how AI will certainly play a role in translation and learning new languages, and it is already used in Machine Translation. 
However, for now, apps relying on AI only work for simple conversation and cannot translate complex interactions. Moreover, mastering a foreign language means knowing its culture, history and social context to understand subtle nuances. Machines still cannot do that. 
According to Ippoliti "A human brain's understanding and perception of the world and its reality is far superior to a machine's grasp of this domain". 
This is why irony, poetry, sarcasm and figurative language are still out of reach for AI driven Machine Translation.
While at the moment Machine Translation always needs to be revised by human eyes and it does not perform well in more creative and abstract contexts, it does not mean this will never be the case. In the far future, machines will be able to feel just as humans do, and this will mean a new era not only for the translation industry but for the entire mankind.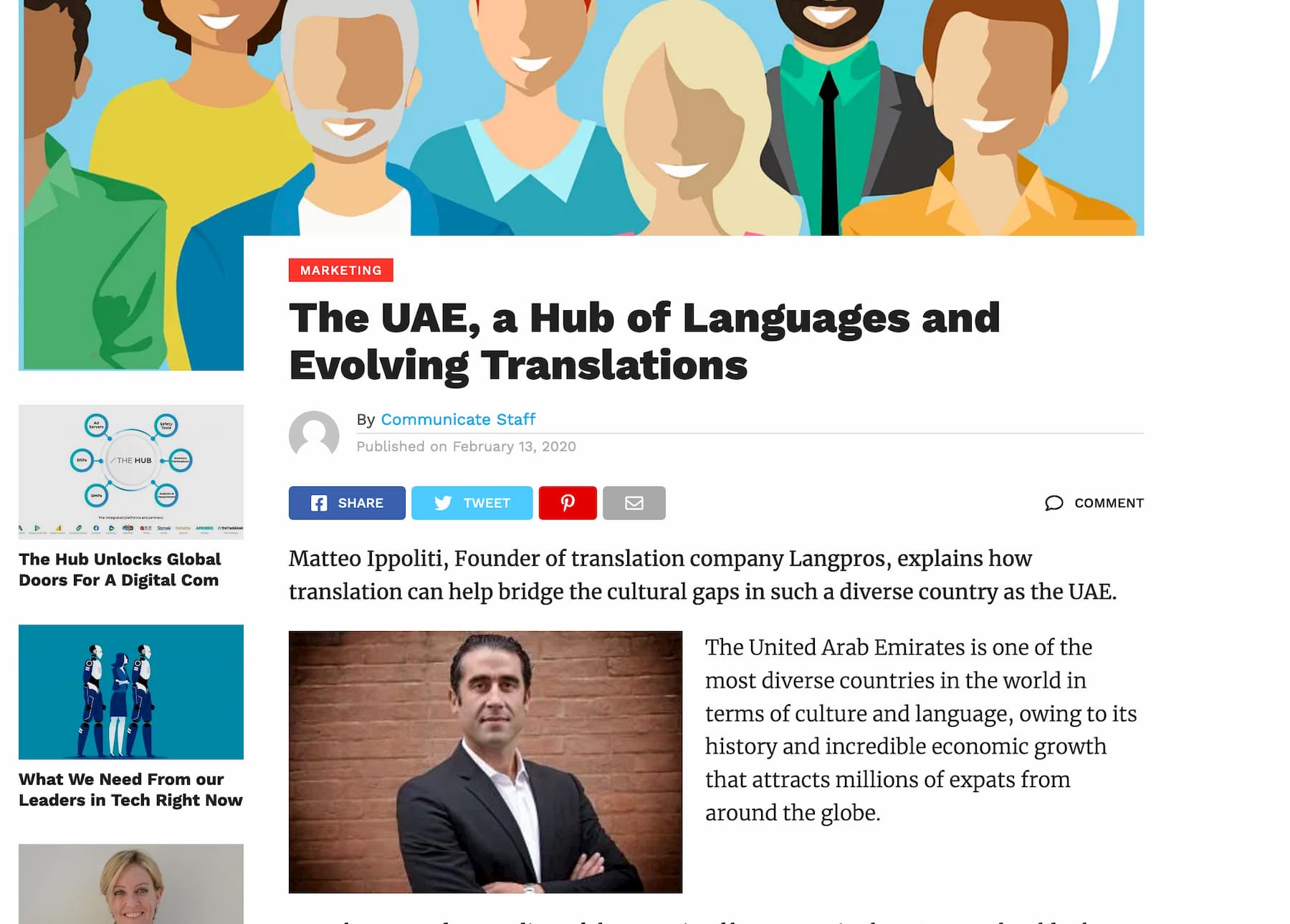 Communicate online column, 13 February 2020
The UAE with its strong spirit of inclusivity and tolerance has always been an open country as well as a melting pot of cultures with visitors and expats coming from all corners of the globe.
Indians, Bangladeshi, Pakistani, Egyptians and Filipinos are just some of the ethnic groups that live in this country with native Emirati.
The column illustrates with data and examples the role of the translation and transcreation industry in such a diverse context from the point of view of Langpros' CEO.
In fact, in such a multicultural context, mistranslation could lead to misunderstandings that can be culturally insensitive and sometimes even offensive. However, most of the times they are just bad translations like in some translated expressions shown in the column.
The increasing implementation of artificial intelligence plays a key role in the translation industry. Studies predict that its influence will grow in the following years so will the importance of human translators decrease in the future?
Culture definitely gives language different context and translators should deal with this challenge.
In the column, we discover the best way to overcome language barriers by respecting cross-cultural differences.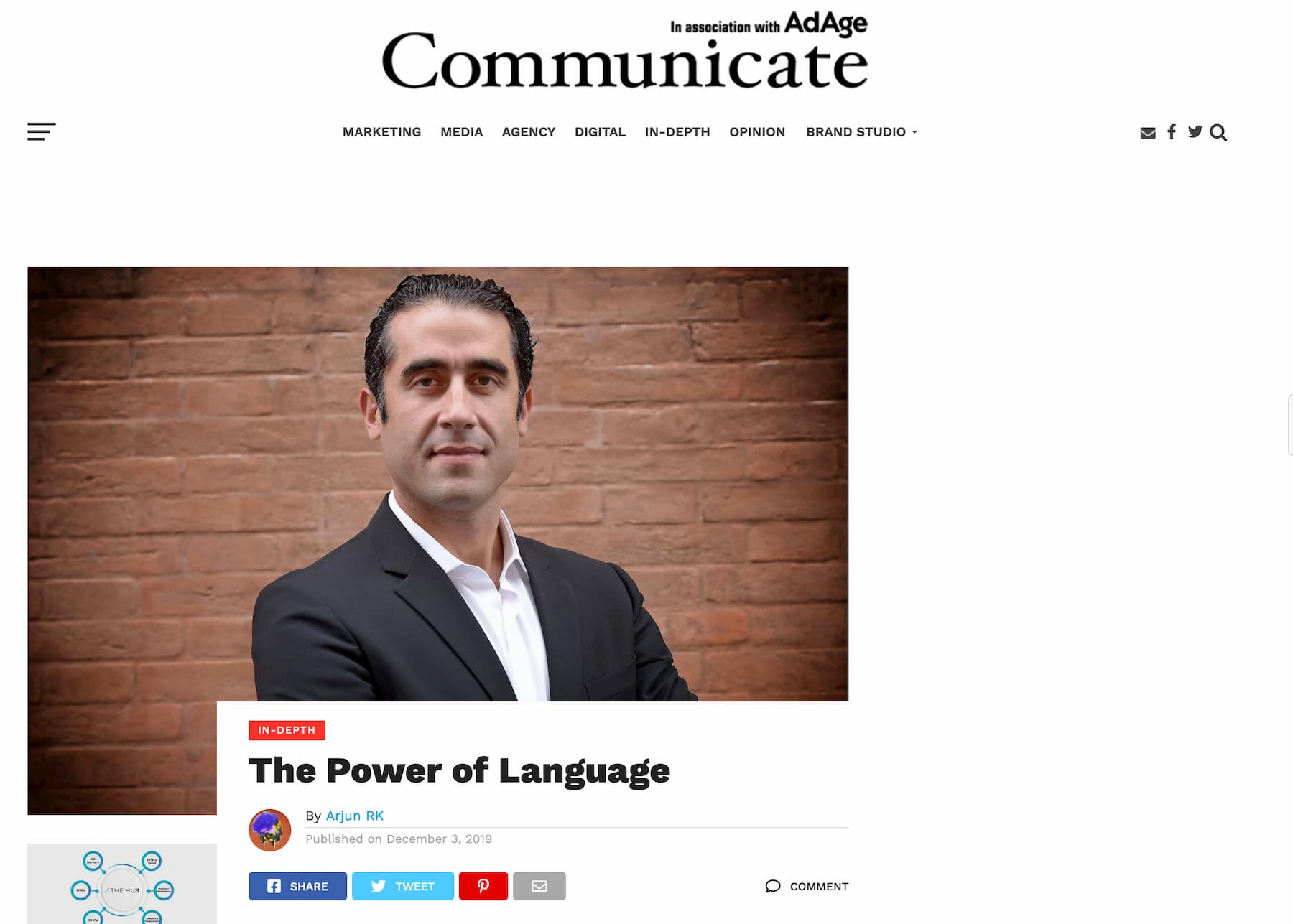 Communicate online, 3 December 2019
The article "The power of language" by Arjun Rk focuses on the potential of language, its implications, influence and predominance in our life. Langpros' CEO Matteo Ippoliti shares his thoughts and ideas regarding this interesting subject.
Over the past 20 years huge technology discoveries in the field of translation such as CAT tools, machine translation, and Google made essential changes in the way the sector is working nowadays compared to the past. In the article we discover how these improvements changed the way translations are made in these days.
According to the service provided, legal, digital or marketing we discover some interesting insights on the future of language services analyzing the importance of human involvement in the digital era along with some forecasts.
As a matter of fact, linguistic accuracy, quality, and attention to cultural differences are still crucial factors to be considered even now that machine translation is the most used and fastest way to work on a text. 
Language is not just wording: it can also change the way we think and understand the complexity of the world we live in.
This topic is the heart of the interview and Langpros' CEO responds considering many points of view: from the cognitive side to the philosophical and cultural ones.
How many different names do Italians use for Pasta? How do cultural and social transformations affect the language we speak every day? 
Is using English always the most appropriate choice to convey different cultures' messages?
The answers to these and many other questions can be found in the article where we discover how language can be the essence of our identity through the words of Matteo Ippoliti.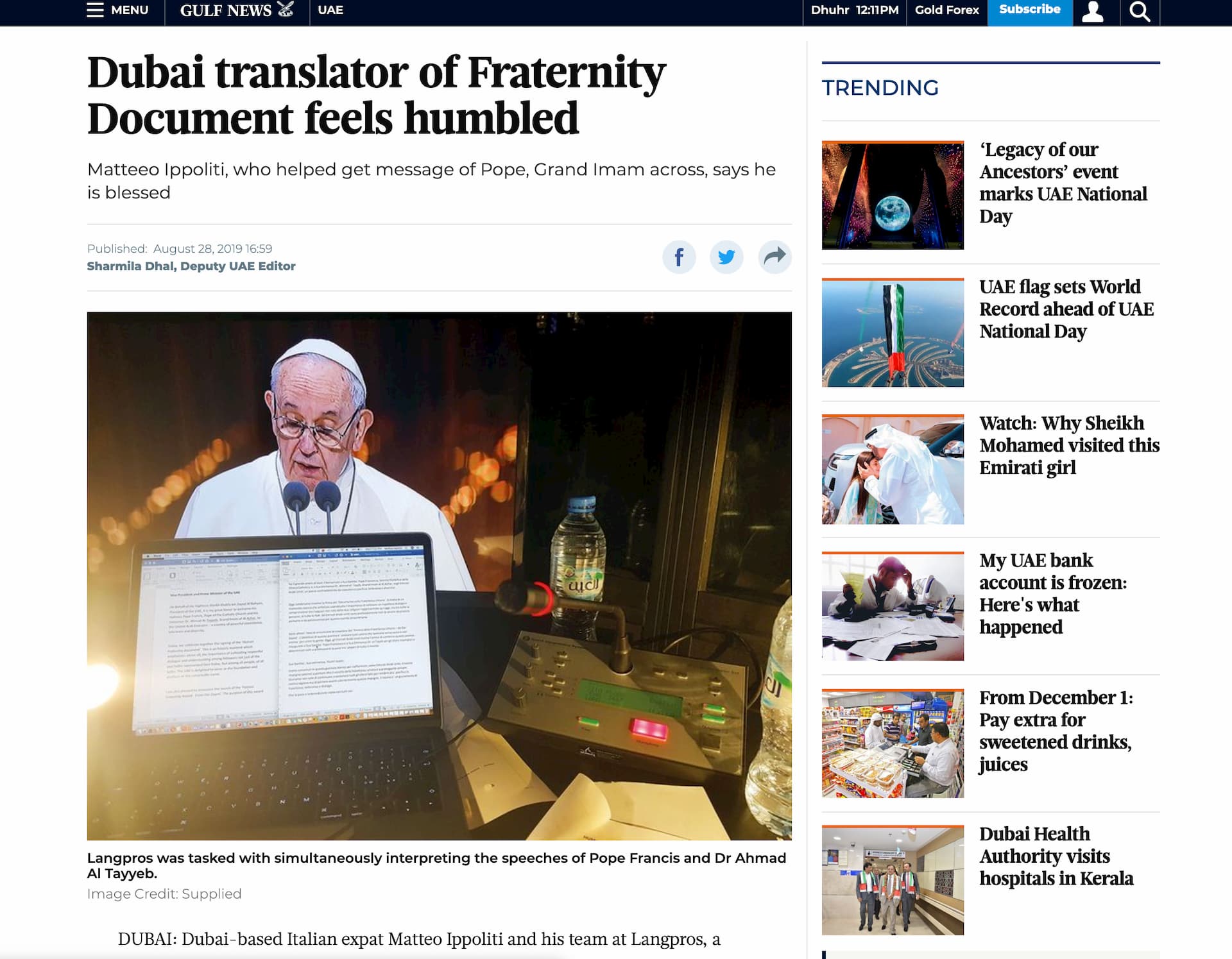 Gulf News, 29 August 2019 – page 6
Last February 2019 the UAE hosted an historical and prestigious event: Pope Francis's visited the country for the first time to give a unique message of peace, cooperation and tolerance. A remarkable document on Human Fraternity for World Peace and Living Together was also signed during this historic visit. 
Langpros was given the honor to provide its language services for the event: our linguists translated the English version of the book dedicated to the Pope's visit and worked on the interpreting of the event in Italian, English and Spanish.
"Dubai translator of Fraternity Document humbled" on the 6th page of Gulf News was then released on 29 August 2019 and Sharmila Dhal presented Langpros contribution to developing the message of the Holy Father of education and human fraternity across the countries.
The UAE decided to dedicate 2019 to "tolerance" in order to promote openness towards people and different cultures. This visit was crucial for this campaign, and Pope Francis's visit was embraced by the Grand Imam of Al Azhar, Dr. Ahmad Al Tayyeb and the Authorities of the United Arab Emirates. Tens of thousands attended the mass delivered by the Holy Father and witnessed the historic event.
Langpros' outstanding experience, through the words of its founder Matteo Ippoliti, included written translation and simultaneous interpretation for this event.A great challenge for the Langpros team that required the usual professionalism and high-level of expertise.
"We felt humbled" as stated in the article, the opportunity was undoubtedly huge but the success came after a long path of effort and extreme dedication.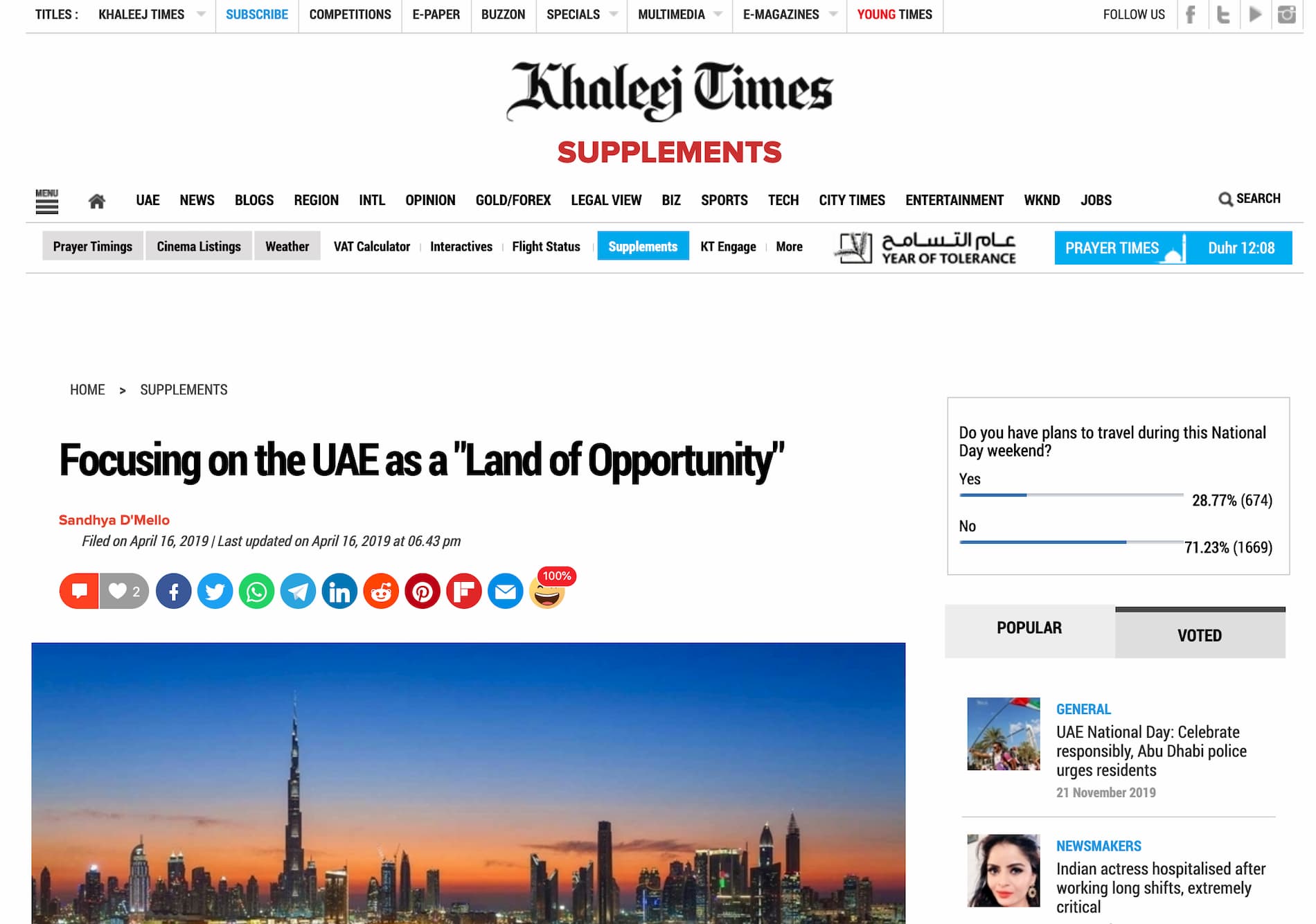 Khaleej Times, 16 April 2019 – Special Issue "Shaping the Future" – page 27
The UAE has always been a "land of opportunity" associated with an international multicultural community where all the dreams come true. No wonder people from all over the world live together in this global hub pursuing successful goals and great achievements.
Being a mixture of modern technologies and alpha city attractions, ambitions businessmen and global giants established in the UAE to make the most of it in terms of economic growth.
In the special issue "Shaping the future" of the Khaleej Times, Sandhya D' Mello guides us to discover some of nowadays business leading personalities in the UAE like the Present and CEO of Dubai Chamber and the Vice President of Internal Participant of the upcoming Expo 2020 that will be hosted by the Uae in Dubai.
These entrepreneurs share their innovative and visionary thoughts and experience in the interview, all of them chose the UAE as a pre-eminent center for business and the right place to pursue entrepreneurial success. Innovative visions, embracing tolerance and multiculturalism, hard work and talent are the key factors they all have in common.
Langpros' founder Matteo Ippoliti contributes himself every day with his vision making the difference by providing with his Company high-quality language services from interpreting to translation in over 100 languages.
Presented in the article as one of the leading translation and interpreting firms in the region, Langpros has been accredited by local and international institutions, such as the UAE Ministries of Foreign Affairs and Justice and the Italian Embassy. Ambition and professionalism are combined towards more mutual and brighter goals.